Combination spanners with a difference.
When you buy a set of combination spanners, you get an open ender at one end and a ring at the other both the same size. If you have to undo a nut and bolt and need a spanner the same size for both the nut and the bolt, you would need two sets.
What makes Twin-Set spanners different from normal spanners is that one set will do the job, because you have two of each size available at the same time from the same set.
Here's how.
Size A open end has size B ring
Size B open-end has size A ring.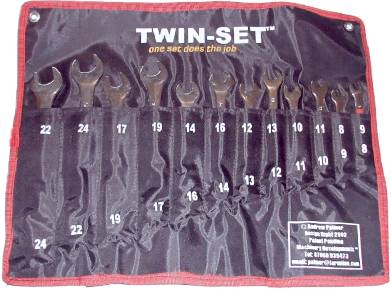 The tool roll
The presentation of the twin-set spanners in its "super tough" Tetron tool roll identifies the twins-set sizes, so you can easily see which two spanners you need for the job. Folding the tool roll over retains and protects the spanners for storage.
The tool roll is tough enough for any contractors and farmers toolboxes.
Spanners spec
The twin-set spanners are available in metric sizes. They are 8, 9, 10, 11, 12, 13, 14, 16, 17, 19, 22 and 24mm.
The spanners are top quality drop forged chrome vanadium and carry a 10-year guarantee.
More Information
If you would like more information about the Twin-Set spanners send your Name, Address, and Phone Number to:-

Machinery Developments.
Top Cottage, Bower Hinton Farm, Martock, Somerset. TA12 6LH

© Copyright Barrow Lane Products 2004