By Rob Wareham
http://www.barrowlane.co.uk/inform/june 2003.html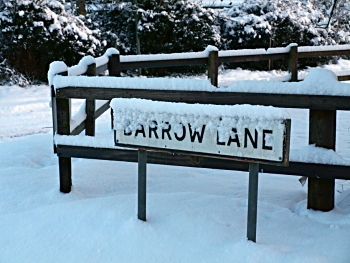 Snow fell on Charlton Musgrove turning Barrow Lane into a proper "Winter Wonderland". Many Schools were closed across the south west and people were unable to travel until later in the day. It provided a perfect opportunity to get out and take some photos like the one on the right.
You can view some more snowy pics in and around Barrow Lane Charlton Musgrove here.
Air Gunner contributor Mat Manning will be joining the Tower Guns team to host a special have-a-go airgun event in south Brewham near Bruton in Somerset, the home of Park Farm airgun shooting holidays.
Targets at the Tower is intended to be a fun, hands-on event to promote the sport of air-gunning, whether you're an expert or a complete beginner. Attractions will include a 20-target HFT-style layout in woodland, a life-size running boar target and a long-range shooting competition - all with top prizes.
There will also be a have-a-go range where visitors will be able to try out various BSA and Gamo guns on all sorts of knock-down and spinning targets. As well a zero range, and expert advice on airguns and accessories.
The full range of Tower Guns shooting hardware, ammunitions and accessories will be available on the day as well a hot and cold refreshments. When and Where?
Tower Guns is based at Park Farm in South Brewham, between the Somerset market town of Bruton and the historic Stourhead Estate - just off the A303.
The event runs from 10am to 4pm on Saturday 7th June 2008.
Contact Roe Norman at Tower Guns to find out more about Targets at the Tower.
Tel:01749 812230 or email enquiries@towerguns.co.uk
Clay Shoot - Open, novice, team and individual classes
Supervised pellet gun range for children to have-a-go.
Shoot guns available to borrow, cartridges available to purchase on site. Barbecue, afternoon tea and drinks served all afternoon.
Corporate sponsored prizes.
Sunday 29th June 2008 1pm to 5pm - Come and have a go!
For more information contact:
Higher Stavordale Farm, Charlton Musgrove, Wincaton, Somerset. Tel: 01963 33177
At last years Royal Bath and West show Andrew Palmer's entry in the Farm Innovations Awards was a combination spanner with a difference. It had two of each size available at the same time from the one set.
Size A open-end has size B ring
Size B open-end has size A ring.
By doing this he was solving the problem that you get with normal combination spanners. Each one has the same size open end as the ring, so if you want to undo a nut and a bolt you need two spanners the same size, so you either need to sets or you would use an adjustable spanner which could damage you bolt head.
This year it was encouraging to hear from Andrew that he had made progress with his unique spanners and was having some sets made for sale. They will be available in the following sets containing 8, 9, 10, 11, 12, 13, 14, 15, 17, 19, 22 and 24mm.
The spanners are top quality drop forged chrome vanadium and carry a 10-year guarantee.
The disappointing thing is he could not find a company in the UK who could make them for him, so he had to have them made in India.
If you would like more information about the Twin-Set spanners send your Name, Address, and Phone Number to:-
Machinery Developments.
Top Cottage, Bower Hinton Farm,
Martock, Somerset. TA12 6LH
More on the Twin-Set spanners can be found here
Windyridge Cheese Ltd is a growing cheese wholesaler, based near Wincanton, Somerset.
Primarily farmers dealing in Beef and Cerials, they have diversified into a small business producing hand made flavoured cheeses.
They make approximately thirty varieties, using cheddar selected from the West Country to which they add there flavouring.
One range of the cheese is moulded and waxed to make them look like Green Peppers and Red Tomatoes, offering an interesting and unusual addition to cheese boards at dinner parties or functions.
Also a very popular product is a round of eight varieties in wedges that give the appearance of a Dartboard.
The flavoured cheese range is extensive and are too many to list here, but they include:-
Cheddar with Spring Onion, Cheddar & Marmite, Smoked Garlic Cheddar, Onion & Chives, Jamaican Rumba, Mex-Mix and many more.
Windyridge Cheese Ltd have a nation-wide customer base including Wholesalers, Retailers, Market Traders and Farm Shops.
Why not contact them and try for yourself.
Windyridge Cheese Ltd
High Winds Farm, Higher Holton,
Wincanton, Somerset, BA9 8AY
Tel: 01963 33373
inform wrap-up
That wraps up this issue of inform, I hope to have another issue for you soon. I intend to cover a variety of subjects, from things I have seen, done or read.

Thanks for reading!

If you would like to bring something to my attention that may interest others in future issues of inform, please let me know.

© Copyright Barrow Lane Products 2009